Share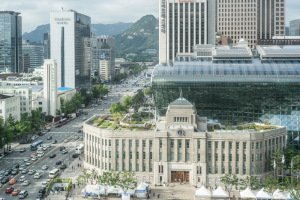 I have just returned from a fascinating Bar Council/UK Trade delegation to Seoul, South Korea and Shanghai and Beijing, China. What I was  talking about there was sports law and the potential for its massive growth in that part of the world.
The reasons are obvious. The development of sports law in Asia is inevitable. It is not a question of whether this will be an emerging new market area, but when and who is likely to lead the way.
The development of sports law in certain western countries, for example the UK (where it is now an established practice area) is fundamentally a product of the commercialisation of sport. The increase in value of sporting events means, in turn, that disputes arising in relation to those events are worth more money. When a dispute becomes worth substantial sums for the parties it is far more likely they will seek professional legal advice or litigate over it. And so an area of practice which may have been a side-line for a few interested lawyers in the past, becomes an important and commercial area of legal practice.
A study by a US consultancy firm in 2011 valued the global sports industry as being worth up to 450 billion euros – including infrastructure construction, sports goods and licensing. Sport is a global business. In terms of the sports events market, including ticketing, broadcasting and sponsorship, football continues to make up by far the largest slice of the business, accounting for 43% of the share of the global market in 2011.
The English Premier League is the richest and most watched football league in the World. Total TV audience for Premier League games reached 4.7 billion last season, and broadcasting rights were sold for around £5.5 Billion. A huge part of that market is in Asia, of course. Foreign investors own almost half of Britain's Premier League teams, and foreign sponsorship of football is everywhere. Asian owners and sponsors are not only confined to the Premier League– Championship clubs such as QPR (Malaysian and Indian owners), Birmingham City (Hong Kong), Blackburn Rovers (Indian), and Leicester City (Thai) all have Asian owners and in some cases major sponsors. This year Barclays bank, The FA Premier League's main sponsor, announced that it will have sponsorship on match-side display in Chinese for a number of seconds in every FAPL game – because of the importance of sponsorship in China. English Premier League teams understand how Asia is one of the most important streams for fan revenue – Manchester United, Man City, Sunderland and Spurs spent part of pre-season participating in the Barclays Asia Trophy in Hong Kong, Man Utd. also went to China, Thailand and Japan, Arsenal went to Vietnam, Indonesia and Japan, Liverpool to Indonesia and Thailand, and Chelsea went to Thailand, Malaysia and Indonesia. Asian fans make up a large and valuable part of these teams fans – for example The South China Morning Post estimated that 16% of Manchester City's fans come from China, compared to only 3% in Britain.
These are just a few examples of the commercialisation and globalisation of sport in the UK. These developments in turn have led to the development of Sports Law as a significant area of specialist legal practice in certain Western markets, in particular in Britain.
Specialists in Sports law, like some of us at Blackstone Chambers, are involved in providing advice and representing sporting clients across a wide range of disputes that arise in sporting context, from commercial disputes with sponsors, contractual disputes between players and clubs, to regulatory and disciplinary issues including match fixing and doping.
But the point is not that Asia is an extremely valuable market for Western sports, but that there will be a significant development of sports law in Asia over the next few years. The Asian 'audience' for English football (or Formula One or many other sports) serves only to highlight the huge domestic markets for sports across Asia, and how the tapping into these markets by established sports has led to an even greater commercial growth which in turn leads to sports law becoming a viable practice area.
Sports law so far is a fledgling area of practice over much of Asia. This reflects the fact that whilst sport is extremely popular in Asia, the development of strong, independent and commercially lucrative domestic sports has not reached its potential yet.
Cricket in India is, of course, a notable exception – the Indian Premier League is worth over $1 billion US dollars in broadcasting rights and the IPL is now by far the most commercially lucrative cricket competition in the world. The development of sports law in India, in particular in relation to match-fixing/corruption and doping, but also competition law and broadcasting, has followed in the footsteps of the growth of the IPL.
The J-League in Japan is the most advanced domestic football league in Asia and is now attempting to compete with the English Premier League in the Asian football broadcast market – where countries with huge football loving audiences like Vietnam, Thailand, Indonesia, the Philippines and Malaysia are crucial. Indeed, J-League teams have recently signed up some of the best football players from some of these countries in order to increase their South East Asian fanbase.
But elsewhere domestic sports are still establishing themselves and have far to go. Take the example of football in China. Average attendances for clubs in the top tier of Chinese football were 18,740 last year – that's about half the size of the average attendance for English Premier League sides (35,885) in the same season, and only slightly more than average attendances in the Championship (16,044), yet China's population is over 21 times larger than the UK's. And of course far less people in China watch Chinese football on TV than they do the English Premier league. The world's most populous country ranks 99th in the FIFA world ratings (behind other Asian teams Japan (42), Iran (48), Turkey (49), Uzbekistan (57), South Korea (58), and only just ahead of Iraq (105), and North Korea (113)). There are many reasons why football has not yet developed its potential in China, but the recent widespread match-fixing scandal in Chinese football has certainly not helped. Not only may the quality of Chinese football still be off the pace, but many fans are understandably put off when they believe the outcome of the game has been determined before they watch it. It's an important and welcome move that the new Chinese administration has promised to take a very tough line against corruption in football. Effective anti-corruption measures in sport will be crucial in reasserting the integrity of sports in Asia, in the same way that anti-doping has helped restore popular faith in the Olympics worldwide.
It is inevitable, however, that as the economies and living standards in Asia continue to grow domestic sports and leisure markets will prosper. As more money begins to pour into local sports, and not simply sponsor Western sports, domestic sporting bodies will strengthen. Commercial and regulatory disputes in sport will become valuable and there will be a need for specialists operating in this dynamic area of law.
There are a number of indicators of where and how sports law will develop. India and Japan, as already mentioned above, have a head start – and winning the bid for the 2020 Olympic games will have a further impetus into the growing sports market in Japan. Singapore, whilst without a large commercial domestic sports market has established itself very successfully as a regional centre for commercial arbitration and is vying to do the same in sport.
It will be of particular interest to see where (and whether) the Court of Arbitration in Sport (CAS) finally decides to set up its Asian headquarters. Singapore and Kuala Lumpa are both vying to be the centre of sports arbitration. Shanghai, on the other hand, has already set up a CAS hearing centre in the city and, with its programme to become the largest commercial centre by 2020, along with the sheer size of the Chinese economy, is another likely centre for growth. Seoul's unique geographical and cultural position between China and Japan means that it also is likely to be an area for growth in this sector.
Whilst football may maintain its status as the largest sport commercially in Asia, developments in others sports across the region will be important with badminton, volleyball, table tennis, basketball, cricket (in the Indian sub-continent) and martial arts likely to be amongst the leading sports.
The growth of sports law in Asia should be even more exciting, dynamic and rapid than it has been in the West – but it will not grow in a vacuum. It is likely that many of the fundamental principles of sports law will be shared. Regulatory bodies will no doubt learn from the experience of those that have managed and regulated sports successfully elsewhere. Conflicts will often take an international character – as with football player transfers for example, or issues relating to doping and match fixing. The emerging "principles" of sports law, established through decades of difficult cases, will be of interest. Many will no doubt be applied, others replaced by new principles. Lawyers specialising in sports law in the West should have much to learn, and hopefully much to share, with those starting to work in this exciting area in Asia over the next few years.